Dinner Lady E-Liquid is awesome, tasty and served up in well designed packaging. You NEED this stuff in your life
Dinner Lady E-Liquid. Yep, the name's odd but this lineup of e-liquid is VERY impressive, indeed.
VapeBeat gets sent a lot of e juice to review. The good stuff ends up on our Best E Liquid feature, the bad in our recycling bin. But some stuff is so good it warrants a review all of its own. And the Dinner Lady E-Liquid line DEFINITELY falls into the latter category.
Dinner Lady are a UK company and they pride themselves on producing the finest quality e liquids known to man. Based in Blackburn, Lancashire, Dinner Lady offer up a very slick overall package complete with excellent branding, a great website and and extensive reseller network.
They push hard or Facebook and Instagram and seemingly have a lot of fans in the vaping space. I was lucky enough to get a sampler of Dinner Lady's latest line of Dinner Lady E-Liquid, which I have no just polished off. I got through 150ml in just under two weeks. That's a lot — but once you've tasted this stuff you'll understand why. It is STUNNINGLY tasty.
Dinner Lady E-Liquid: The Line-Up
The emphasis here is desserts. The Dinner Lady E-Liquid line up I tested consisted of four flavours: Lemon Tart, Strawberry Custard, Cornflake Tart and Maple Waffle. All were sweet. All were all-day-vapes. And all of them are packaged in a beautifully designed bottle.
I get to test out a lot of e juice. Normally, there's about 10-15 unopened bottles on my shelf at anyone time. Normally, I find it hard to stick to one line of products — even when I'm reviewing them. This was not the case with Dinner Lady's dessert-based line-up; I burned through them in record time and was sad when the last drop had gone.

The mix here is 70/30 VG/PG — the goldilocks's mix, in my opinion — and the flavours are huge, expertly crafted affairs with so much detail you cannot help yourself for immediately going back for more. Sort of like when you're eating a sundae; the sensation in your mouth and on your tongue just keeps you coming back for more.
My personal favourite was Cornflake Tart, which is bas described as a sort of sweet cereal taste — it's subtle, sweet and perfect to vape on all day long. I also really liked Strawberry Custard and Lemon Tart; the latter probably being my second favourite.
I had 30ml bottle sizes at 3MG of nicotine; again, the Goldilocks's level for me. With 3MG of nicotine, you still get a hit but the flavour of the e juice is not affected by the presence of nicotine. Once you've gone down to 3MG, anything higher just feels like overkill. Plus, I'm not prepared to sacrifice flavour for a better nicotine hit.
Dinner Lady E-Liquid: Who's This For?
Basically, anyone that like sweet, premium e liquids. I've tested a lot of brands in 2016 and Dinner Lady E-Liquid stands out at the very front. The flavours are soft and palatable, but immensely complex. They kind of dance on your tongue. And thanks to the 30% PG mix, there is a satisfying but, again, subtle throat hit making it an ideal choice for cloud chasers and novice vapers alike.
Dinner Lady E-Liquid: Where Can I Buy Some!?
Simple: if you're in the UK you can pick up the entire line of flavours mentioned in this review from UK Ecig Store. They're priced at £14.99 for 30ML. And while that might sound a little pricy, this is easily one of the best lineups of e juice we have tested in 2016, so it is definitely worth a look if you're serious about trying out new flavours and brands.
You can catch Dinner Lady at the following Vape Expos:
Vape Expo – Paris – September 25

th

, 26

th

, 27

th

Vape Expo – Birmingham – October 12

th

,13

th

, 14

th

Vape Expo – Madrid – November 18

th

, 19

th

 20

th
---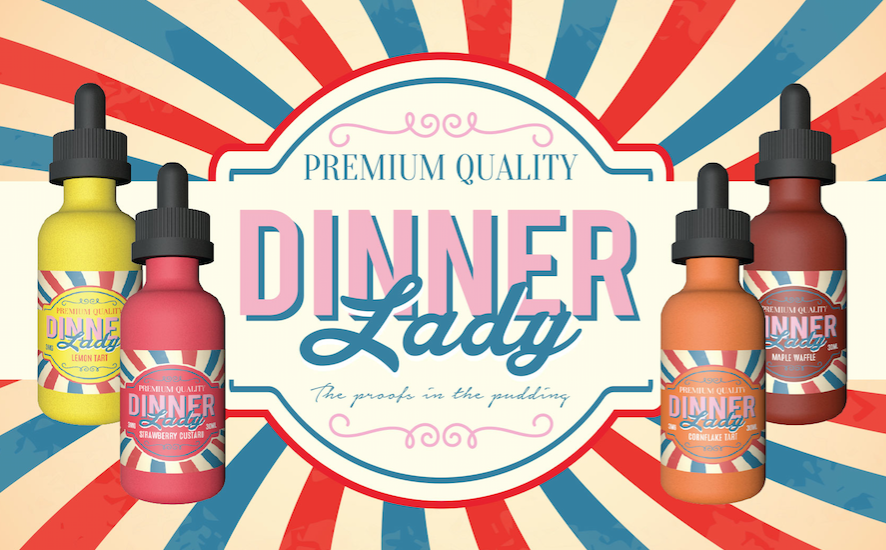 http://vapedinnerlady.com/wp-content/uploads/Dinnerlady-A7-Promo-Labels.jpg
886
1240
vape_dinnerlady
http://vapedinnerlady.com/wp-content/uploads/DL-Logo-Centred.png
vape_dinnerlady
2016-07-06 17:52:10
2016-08-29 13:52:09
Dinner Lady E-Liquid Review: Sublime E Juice, Indeed!